Other Fun Things
Fossil Hunting
A friend of ours, Edwin, introduced us to shark teeth hunting in 1998. Since then we have gone to a couple of expeditions to look for fossilized teeth. We had our first introduction to it in Brownie beach, close to Annapolis. I must say it is really fun and reawarding. I think we have about 200 teeth from that beach from 3-4 trips. Unfortunately, the Chesapeake Bay does not have the most pleasant water and the beach itself is below Brazilian standards, but one can't have everything at once, can one? that is what I thought before going shark teeth hunting in Venice, Florida! that is a real beach! we spent New Years in 2003-2004 there and we have a collection of 246 teeth from there. I included some pictures of that expediton and of my precious treasure in the Photo2 Page By the way, while I was going hunting for 10 million year old teeth on the sands of Venice beach, Tommy was fishing on the peer. I had given him that Christmas a fishing rod and he was all excited about the possibility of fishing a shark from the pier as we saw someone doing in our first day there. He was committed to get one of those weird looking baby hammer head sharks and one day he did it!! I wasn't there when he caught it and, by the time that I arrived with my little plastic bag full of fossilized teeth, he had already dropped it back in the water but had taken pictures to prove his story! It really made me scared of going into the water there afterwards. Well, I wasn't swimming anyway due to the low temperatures (20-25C outside the water, but cold for cariocas), but it did make me think of all the hammer head adult sharks that were swimming in those waters... those baby sharks must have mothers, rigth?
Today (07/21/08) I have collected 785 shark teeth, 133 other fossils from Venice FL, 430 shark teeth, 130 others (and 4 rocks that I think are teeth but Edwin didn't agree) from Manasota Key in FL, 198 teeth and 10 others from Brownie beach MD. I also have either bought or was given as gifts a few items for my collection, including a trilobite, a cephalopod, amonites, and a little meteorite. Anything older than O stars is welcome (older than 5 million years). The newest acquisition is a giant amonite from Tibet. We bought it in a very interesting market on the streets of Lhasa.
The Earth from Above
The other activity that I enjoy is to take pictures from the airplane. Tommy is a private pilot and we fly around often. After he learned how to fly, I learned that I love to see the Earth from above and do navigation. I always say "GPS is for wimps". I like to keep track of where we are on a chart (it is not a map, as an old man in Gettysburg airport once told me). I learned how to navigate on charts in Sweden where we used to live before and Tommy is from. Swedish charts are more fun than the American ones. They have better resolution and have marked all churches on it. Gosh, and that country has so many churches, I can tell you! Anyway, after I discovered my love for sightseeing from airplanes, I discovered how much fun it was to take pictures of the landscape. I have many of them by now. I have selected a few of them here (see Photo Page AZ). I think what triggered me into taking pictures from airplanes was an exhibition of Yann Arthurs-Bertran that I went once in Copenhagen. His pictures are absolutely beautiful and I even took pictures of his pictures.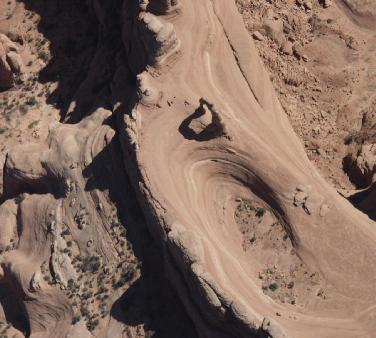 What is the photo on the bottom of the page?
It is a photo of the Delicate Arch in Utah that I took from a cessna 182 turbo when flying in the area in 10/2004. You will find more of those pictures in
Photo Trip AZ
.