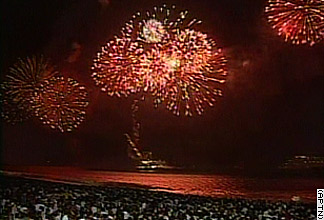 PHOTOS New Years 2003-2004 and 2004-2005

Here's a collection of cool photos of two great New Years trips!

If you are from Rio de Janeiro, as I am, New Years is an important celebration. It is actually my favorite party on the beach. Cariocas don't stay home that night and join other 1-2 million people on the beach to celebrate Yemanja (the Queen of the sea). So, whenever we can, we go to the beach for New Years eve. Tommy has been to Copacabana beach twice (the fireworks are awesome as you can see on the top of this page) and we have been to a few great other locations in our collection of trips. I think the most exhotic one was on the "year 2k bug" in the middle of the Amazon.We didn't go to the beach that night, but the river is a very long beach, anyway! I am adding below two of the most recent New Years trip to: Venice in Florida (2003/04) and Assateague/Chincoteague (2004/05) in Virginia.




---


Tommy's hammer head
Caught at Sharkys Pier in Venice Florida (2003/2004).


10 Million year old shark teeth
246 teeth from Venice Florida

Decoy - Merganser by Gary Crossman
Our first decoy (2004/2005)

Now we are experts - thanks to Wes!
Bob Booth primitive Merganser decoy

Pictures of Chincoteague geese
They were loud!


Chincoteague


If you haven't read about shark teeth yet, go to Not hobbies page where I describe how we got into this!
The two wooden birds above are decoys that we purchased while in Chincoteague. We were introduced to Decoys of Chincoteague by a birder, Wes, who was staying at the same BB we were.We had a very good time learning about birds (real and wooden ones) with him and decided that we should bring some decoys home. Still at the BB, I connected my laptop to the web and checked out some of his recommended pieces. We were totally amazed by how much there was on decoys and went decoy hunting in Chinconteague. We found two that were really liked and did the first "investment" of the year. The two ducks that are shown above live happilly in our little townhouse in Baltimore city!