Many Trips ! (always working on it)
By Country
I am not sure I can write down about all the trips we have done together. But it is about time to do a book-keeping! Here are the countries we have been together: South America: Argentina, Brazil, Chile, Peru - Europe: Denmark, France, Germany, Gilbratar (UK), Greece, Italy, The Netherlands, Norway, Portugal, Spain, Sweden - Asia+Oceania: China, Japan, Australia - Africa: South Africa, Madagascar, La Reunion, Mauritius - North America + Caribbean: Mexico, USA, Bahamas, Barbados, Curacao, Jamaica, St. Lucia - yeap, 30 countries!!
How do we plan our trips?
Many of our fun trips come together with some work related trip. We are astronomers and have many international collaborations. We usually go to international conferences 1-3 times a year and combine a work trip with some vacation whenever that is possible. For example, in 2001 we went to a conference in Reunion Island in the Indian ocean. So, we took 1 week off before the conference and went to Madagascar and 1 week after the conference and went to Mauritius. It was a perfect combination. We had the best time at the conference and as a tourist. We have lived together in three countries: Chile, Sweden, USA. We also try to go to Brazil and Sweden at least once a year to see our families. But we also try to go to different places whenever we can take days off. We like to go to the beach and the Caribbean is one of our favorite spots. Wish the years were longer to accomodate more trips...
Memorable Trips
Some trips are indescribable. I can close my eyes and feel that smell or that sunshine as if I were travelling in time. Some of our unforgettable moments are: the sounds of the amazon birds, the colors of Greece, the warm waters of the caribbean sea, the flavors of the south american cuisine, the cold wind of northern latitudes, the intriguing sites of Easter island, the red colors of the american desert...
Guide Books
We usually buy a guide book of the country we are going to and start from there. But we read the guide books with a critical mind and always build up our own opinion of the places we go. I learned this after I read the Lonely Planet on the Canary Islands... I went to Lanzarote on my own to attend a conference in 2002 and ordered the book online. Fortunately, the book arrived after I had already made arrangements, otherwise I would probably had avoided a great spot in the Lanzarote area: la Isla Graciosa. The writers of the guide show that they are not big fans of the Canary Islands in general, but they describe Graciosa as a 1/2 day at most trip and discourage anyone who reads about it to even try it. I think Graciosa is one of the most beautiful places I have been to and I would go back there any time! I am glad the tourists haven't found Graciosa yet and hope they will avoid it based on Lonely Planets recommendation ;-)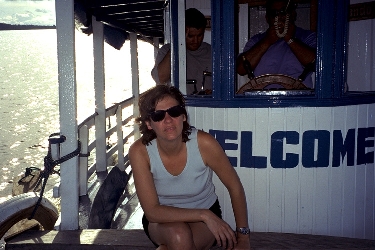 That is me in the Black River - Amazon on 01/2000